This is a Sponsored post written by me on behalf of Advanced American Telephones for SocialSpark. All opinions are 100% mine.
I remember, years ago, before it was "cool" (or necessary) to have a fully functional home office, shopping for "just the right phone" to cover all of our business needs. At the time, we were running a domain registration and hosting site and were quite popular with our "high quality, affordable services" rates. However, this motto required that we use the phone to be available to our customers 24/7 and, in our own home, with what would work like a commercial phone. It was nearly an impossible feat to find one that had ALL of the features we needed, without changing our motto to "high quality, NON-affordable services."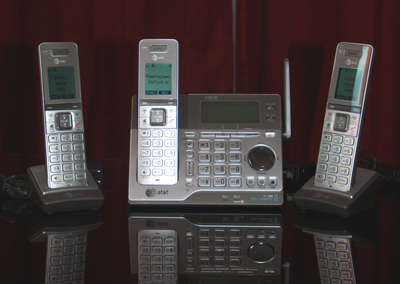 Fortunately, AT&T has come to the rescue these days and not just "getting by" but hitting it out of the ball field.
Quality of Sound of CLP99383 Phone
The quality of the sound is better than digital clear. Gone are the warm fuzzy analog sound quality with raspy undertones, and here are the techno-clear digital age sound that would put Star Trek to shame. In the past, I recall having issues with the phone company (during "dial-up" days) because the sound was so bad that it wouldn't keep an internet connection. This sound quality is so clear you could record a podcast off of it. In fact, I might just do that!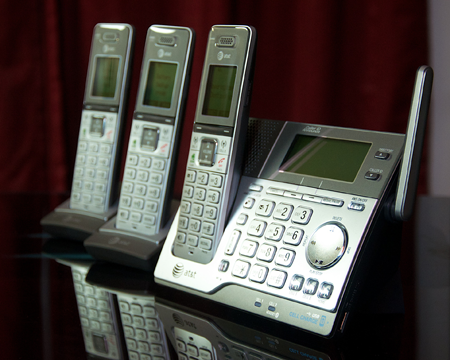 Features Galore in the CLP99383 Phone
This lovely phone has all of the features my heart could desire, for my office, as well as home. These features include:
a "range" that doesn't know the word "end."
voice announcing of Caller ID (when subscribed via phone service)
caller ID/call waiting with ability to store up to 50 calls in history
conference calling
answer the phone with any key (fumbling? no problem!)
Push-to-Talk
mute
equalizer to adjust HD audio (we sound engineers LOVE that!)
3 handsets (expandable to 12)
works with AT&T cordless headset (essential!)
intercom (us too-lazy-to-use-stairs LOVE that!)
built-in phone directory that stores up to 200 entries
voicemail indicator
quick access for your voicemail (no longer fumbling to find it!)
last 10 numbers available for redial
multi-language setup menu
power-conserving technology (us green people LOVE that!)
battery back-up
mount on table or wall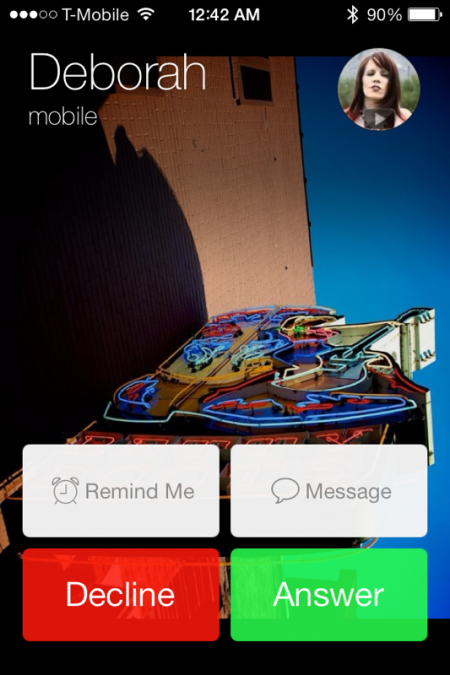 Favorite Feature: Connect to Cell BLUETOOTH® Technology of CLP99383 Phone
So, you gave up your landline and upped your cell minutes to unlimited to cut costs? Well, the CLP99383 is still the phone for you! I love my iPhone, but, sometimes the audio is just a bit muffled. When I used headphones, the sound is clear as can be, but who has time to grab the headphones every time the cell phone rings? Well, here is the answer to both – use the CLP99383! This beautiful piece of technology can be hooked up to act as the cell phone, so you don't have to use your cell phone when you are in the office or at home. This is also very handy if the cell phone is on one floor of the house and not the floor that you are on … no worries… with 3 handsets, you are sure to have a phone handy to answer that cell call.
The handset of the the CLP99383 makes it easy to use, allowing you to choose between Cell 1 and Cell 2. Oh, and for those of us who are forever having trouble deciphering little universal graphics? Have no fear, AT&T has thought of us and included the TEXT, so we can figure out what the buttons are! They also had the foresight to make the numbers big enough to read but not so big that you feel like you are a senior citizen (even if you are). The display is clear as can be, and as easy to read as a piece of paper.
Since the handsets are actually utilizing the cell phone service, for each of the cell buttons on the phone, you can actually use each handset to make a call AT THE SAME TIME using each of the services (the two different programmed-in cell phones, and the land line). Did you notice, THREE handsets with this system?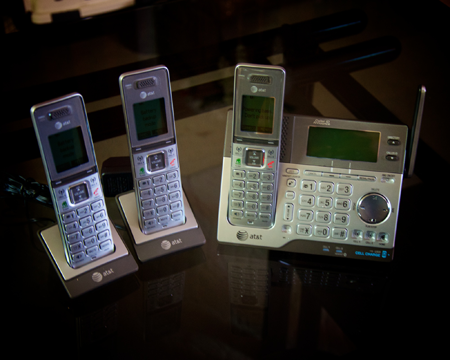 That's not all. The CLP99383 also has a built-in USB dock for the cell phone. What does that mean? The CLP99383 can alert you to texts, email, voicemail.. any alerts that your cell phone would give you. Do you have one of those houses (or offices) where you continually lose the call because of a dead spot, but conveniently forget about that dead spot until it happens, repeatedly? No worries. Leave your phone in the best location for the cell signal and use the CLP99383 handset instead. This also helps when you want to have those business calls on speaker phone and they call in on your cell phone. Some cell phones just were not cut out for speaker calls. The CLP99383, on the other hand, handles those calls like a pro, turning your cell phone into a full-blown commercial speaker phone.
Surprise Bonus: Downloadable Directory
Now that your phone has collected calls and call information for the land line and two cell phones, and you have it in the directory, you can download that information and add it to your favorite address book system. No longer do you have to key it into the phone, one cell phone, the other cell phone, and the online/offline directories. Handle it once and it can be integrated with all of your systems.
Workflow enhancement
The base is full of goodies and programmable options, but it can find its place of honor on your favorite coffee table, or large desk, or even the wall-mount option. However, for smaller places and smaller desks, the handset is sleek and has a small footprint, barely taking more space that a cell phone. It is easy on the hands, easy on the eyes, and easy to use, with the slick touch-buttons and easy-to-read panel. This phone, with its relatively small size, handles all of your business needs in a robust manner, with the headset capability, speaker phone, easy to reach directory, and functioning as three phones in one. It becomes the standard by which business communication is measured.
Conclusion
With a phone that boasts this many features AND serves as an essential part of my home office, I would expect to pay $399 and up. Back "in the day," that was a reasonable price tag for a comparable phone of its day. However, this CLP99383 phone is only around $100. I would go out and pick one up now. In fact, I'm thinking that I may grab a couple for Holiday gift giving.